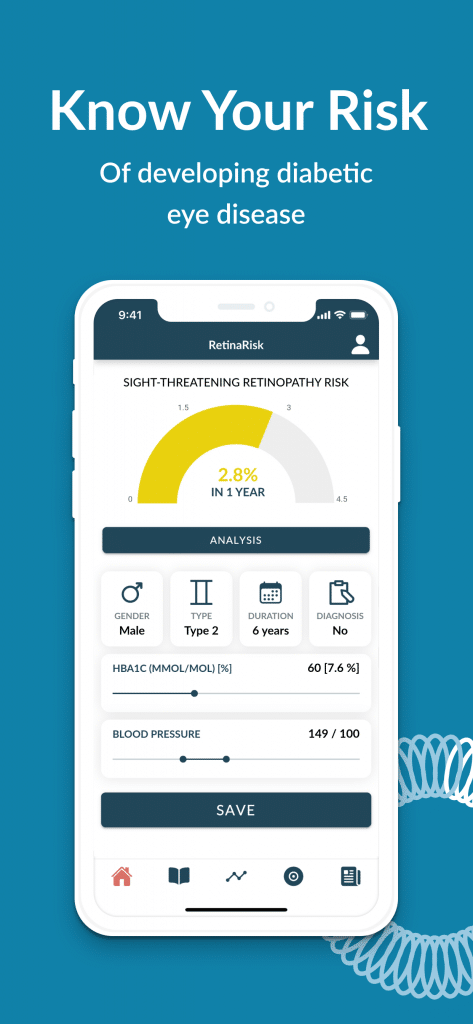 The RetinaRisk mobile app enables you to calculate your personalized risk of diabetic retinopathy which is one of the leading causes of blindness in the world. 95% of cases can be prevented with timely detection, treatment and preventive lifestyle changes and RetinaRisk can play a key role in that process. In addition to calculating eye risk, the RetinaRisk app enables users to dive into the risk results, discover what factors are driving each risk result and what behavior to focus on to lower the risk quickly and efficiently if needed.
Discover trends and share data
Our new data section enables users to view how their risk progresses over time so they can discover trends that can lead to positive change. Users are able to set risk goals that will appear in the graph to be able to compare the progression with previous goals. Users can comment on individual results and share them with third parties such as physicians. Exports are in .csv format which enables users to incorporate RetinaRisk data into other platforms as well.
Never miss an eye screening
The data section also enables users to log their eye screening appointments and receive notifications to remind them of upcoming appointments. Regular eye screening is one of the most important actions a person can take to manage their diabetic eye health and with the RetinaRisk you can make sure you never miss an appointment.
Analyze your results and take the right decisions
The analysis section allows you to dive deeper into what the risk calculation means for you and what factors are driving your future risk of sight threatening diabetic retinopathy. The analysis gives you visual representations of your HbA1c and blood pressure levels as well as personalized messages based on your current levels. This information enables you to determine the best course of action to lower your risk if needed.