The RetinaRisk algorithm is a unique diabetic retinopathy risk calculator that uses clinical risk factors (Hb1Ac, blood pressure, diabetes type and duration of diabetes, gender and retinopathy stage) to calculate each individual's risk for developing sight threatening retinopathy in the next 12 months. The algorithm also serves as a decision support tool by recommending appropriate intervals between screening visits based on the individuals risk profile.
The RetinaRisk algorithm was developed by Dr. Einar Stefansson, Professor at the Department of Ophthalmology, University of Iceland and Dr. Arna Gudmundsdottir, Endocrinologist at the National Hospital Reykjavik, who have over 30 years' experience in screening for diabetic retinopathy and treating diabetes. Our algorithm is based on extensive international research and has been clinically validated in over 25.000 diabetic patients in five countries and found to be robust (Aspelund et al., 2011; van der Heijden et al. 2014; Soto‐Pedre et al. 2015; Lund et al 2016; Schreur et al 2019). I have attached copies of few of the articles for your convenience, with more available on our website: https://www.retinarisk.com/research/
The RetinaRisk API solution or Application Programming Interface, allows for a system-to-system connection to access the RetinaRisk algorithm, serving inter alia healthcare providers, diabetes hospitals, ophthalmology clinics, diabetes platforms, pharmaceuticals and health insurers.
Real life use of the RetinaRisk algorithm during the past five years in several countries, including Norway, South Africa and Holland, has proved its value, leading to enhanced clinical safety for high-risk patients who may be called for eye screening every three-six months or more frequently than per the general yardstick of annual. For low-risk patients, it may be enough to come every two-three years, depending on their risk profile. Using the RetinaRisk risk calculator, Lund et al (2016) showed that screening frequency in an English diabetes cohort can be reduced by 40% with no loss of safety. Estil et al (2020) realised a similar reduction in frequency and cost of diabetic eye screening by 50% in a Norwegian clinic as did Schreur et al 2019 in Holland, both using the RetinaRisk calculator. This means that capacity for eye screening can almost be doubled in densely populated areas with high prevalence of diabetic retinopathy, to avoid preventable blindness.
The RetinaRisk algorithm facilitates a truly personalised approach focused on providing the right treatment to the right patient at the right time.
Built with Amazon Web Services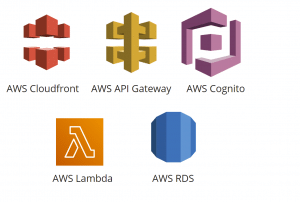 Standing on the shoulders of giants. We are using AWS API technology to deliver the RetinaRisk API securely on a global scale.
Using AWS serverless technology, we can scale to our customer needs and leverage the highly-resilient Amazon backbone network for superior performance and availability for our users.
Health data and data privacy
RetinaRisk has data privacy and security as the highest priority. The API uses the secure Transport Layer Security 1.2 for all communication with our servers.
At no point in time do we store the patients health data that is sent to our API.
The only stored transactional values are, how often the API RiskCalculator is used for invoicing.
RetinaRisk API-Methods
Please visit our API-Methods page for documentation on how to use our API.
API Methods